Between 19 and 20 of September the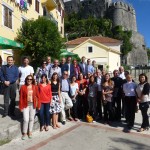 title the Second partner meeting for the STATUS project took place in Herceg-Novi, Montenegro. On the occasion all of the 10 territorial partners and 3 scientific partners have participated in the 2 day event.
Eurodite is project and financial manager of the STATUS project, on behalf of the Lead Partner, municipality of Kavala.
The 2-day meeting offered numerous opportunities to the 11 partners and experts present to exchange experiences and ideas on strategic planning issues but more importantly on their experience in the STATUS project.
19th of September, following a brief welcome word by the mayor of Herceg Novi, Mr Dejan Mandic, the day started with partners and expert presentations on results achieved so far in the project both overall results as well as Partner–by–partner presentation of the outcomes and territorial partner roadmaps. After the presentations, the content management experts made their comments on the quality of the deliverables. The day closed with informal one–on–one discussions between the STATUS Management Team and the Territorial Partners in order to assist partners with individual issues subject to national legislation, procedures and bureaucracy.
The second day focused on project management issues: budget, over/under spending problems and reporting were discussed. The financial manager provided to the territorial partners some guidelines on how to avoid under spending, project communication. During the second half of the day, activities focused on achieving the next steps – methodology, advice by the expert organization – Mr. Gabriel Pascariu representing the Romanian Urban Planner Registry.
Last but not least, was the assessment of the Territorial Partners' roadmaps and position towards achieving their future goals.
The next project meeting is set to be held in Schwechat, Austria on the 9th & 10th of December 2013.